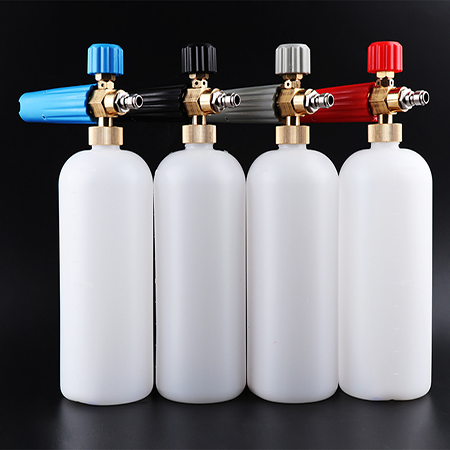 The adjustable nozzle
spray model
Adjustable spray nozzle to change spray model——water column pattern and fan pattern
Control foam concentration
Adjust the knob on the top to control how much water is mixed in and the thickness of the foam spray:
(+):more water,less foam bubbles
(-):less water,more foam bubbles
Specification:
1/4" quick disconnection fitting

Material: Plastic, Stainless Steel and Brass

Requires Flow: 2.0Gpm

Maximum flow: 5.3Gpm

Requires pressure: 70BAR - 1000PSI

Maximum pressure: 200BAR - 3000PSI
FOAM CANNON
The Foam Cannon is built with the highest quality material, for heavy duty use.

Thick car wash foam remove dirt faster than ever, give your car a 'touch-free wash'.

For its build quality , dependability , and ease of use , it's ideal for an enthusiast or professional.

The foam cannon can be used to car,motorcycle,steamship, driveway,floors,windows washing.
Enjoy Foam Party!
Prepare Foam Cannon by filling the soap solution bottle with your favorite car wash soap and warm water like 1:4 ratio. Mix the water and soap by shaking the bottle for a while. Then attach the Foam Cannon. Fine turn the soap mixture knob to the desired foam thickness, and adjust the front fan nozzle to the perfect width to cover the vehicle quickly. Thick car wash foam remove dirt faster than ever. Wait for 5 minites, rinse down the car with water. You will get a "new" car.
Before apply the foam,gently rinse down the car with warm water to remove any loose debris and grime.

The ratio of foam to water is not fixed.

Clean the foam cannon with water after use, especially the foam mixer, to prevent the block.

Your satisfaction is priority for us,If you have any questions,please let us know.We will try our best to solve it quickly.